About Jason Lake
The Dog Trainer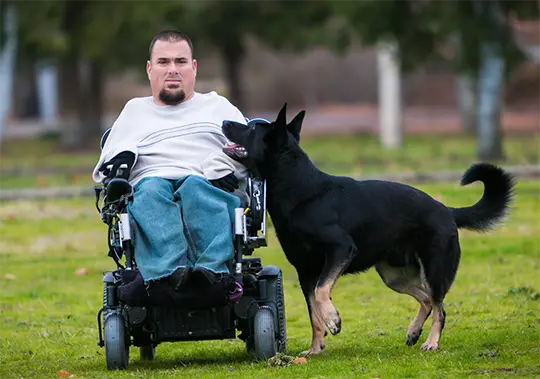 Jason Lake
The Dog Trainer
Position

Founder Of CEO

Experience

25 Years Of Experience

Email

[email protected]

Phone

+1541-944-6419
Who is Jason Lake
Jason Lake: A Passionate Dog Trainer and Canine Behavior Consultant
Introduction
Jason Lake: The Experienced Dog Trainer
Areas of Specialization
Positive Reinforcement and Clear Communication
The Importance of Dog Obedience Training
Benefits of a Well-Trained Dog
Prodogz Training: Making Training Fun and Effective
Conclusion
FAQs
Introduction
When it comes to dog training and canine behavior, Jason Lake is a name that stands out in Medford and The Rogue Valley. With over 25 years of experience, Jason has established himself as a highly proficient and knowledgeable dog trainer and canine behavior consultant. His expertise and dedication have made him a sought-after professional in the field, helping numerous dogs and their owners achieve a harmonious and fulfilling relationship.
Jason Lake: The Experienced Dog Trainer
Jason Lake has spent a significant portion of his life working with dogs and their owners. His extensive experience has provided him with valuable insights into the complexities of dog behavior and training techniques. Jason's passion for dogs and his desire to make a positive difference in their lives have driven him to excel in his profession.
Areas of Specialization
As a versatile dog trainer, Jason specializes in various areas, catering to the unique needs of each dog and their owner. Some of his areas of specialization include:
Dog Aggression
Dealing with dog aggression requires expertise and a deep understanding of canine behavior. Jason has successfully worked with numerous aggressive dogs, helping them overcome their behavioral issues and become well-adjusted pets.
Separation Anxiety
Separation anxiety can be a challenging problem for both dogs and their owners. Jason's compassionate approach and effective training methods have helped many dogs overcome separation anxiety and lead happier, more relaxed lives.
Rescue & Shelter Dog Training
Rescue and shelter dogs often come with a history of trauma and behavioral challenges. Jason's experience and patience enable him to rehabilitate these dogs, providing them with the necessary skills to thrive in their new homes.
Puppy Training
Building a strong foundation is crucial for puppies to grow into well-behaved adult dogs. Jason's puppy training programs focus on socialization, basic obedience, and positive reinforcement, setting the stage for a lifetime of good behavior.
Dog Obedience Training
Jason emphasizes the importance of dog obedience training as a means of establishing clear communication and a strong bond between owners and their dogs. Through his effective training methods, he helps dogs develop good manners and respond reliably to commands.
Difficult Dogs
Some dogs present unique challenges that require an experienced and patient trainer. Jason specializes in working with difficult dogs, employing innovative techniques to bring about positive behavioral changes.
Positive Reinforcement and Clear Communication
Jason Lake firmly believes in the power of positive reinforcement and clear communication when training dogs. He emphasizes the importance of creating a bond built on trust, respect, and mutual understanding. By utilizing rewards, praise, and play, Jason motivates dogs to learn and excel in their training.
The Importance of Dog Obedience Training
Dog obedience training serves as the foundation for a well-behaved and happy dog. It goes beyond simple commands and leash manners. The benefits of dog obedience training include:
1. Establishing a Working Connection: Obedience training strengthens the bond between dogs and their owners, promoting effective communication and understanding.
2. Behavioral Problem Prevention: Proper training helps prevent common behavior problems such as excessive barking.