If you're a dog owner in Medford or Southern Oregon, you've likely heard of Prodogz dog training. Prodogz has been providing expert dog training services to clients in the region for years, and has built up a reputation as one of the top dog training businesses in the area. What sets Prodogz apart from other dog trainers is their commitment to using positive reinforcement techniques to train dogs. This means that instead of using punishment Prodogz focuses on rewarding good behavior and encouraging dogs to make the right choices. Prodogz offers a variety of dog training services, including puppy training, obedience training, and behavior modification.

But it's not just their training techniques that make Prodogz stand out. Their trainers are all experienced professionals who know how to work with dogs of all breeds and temperaments. They take the time to get to know each dog and their owner, and tailor their approach to meet the specific needs of each client.

So if you're looking for high-quality dog training services in Medford or Southern Oregon, look no further than Prodogz. With their positive reinforcement techniques and experienced trainers, you can be sure that your dog will receive the best possible training and care.

Prodogz relies on a proven and rewarding system to create the canine companion you've always wished for but didn't know exactly how to get. We understand that dogs are thinking, reasoning entities that are capable of making choices. Any quality dog trainer will have more than one method in their dog training toolbox to suit each families situation. And every dog or puppy will require a little more or less of each depending on their personality, breeding, and size. Knowing how and when to apply different techniques is not a mechanical decision easily learned or taught, but an instinct that only the most successful dog trainers and puppy trainers have in their soul.

Teaching you how to clearly communicate and become a teacher to your dog, together we create a dog who learns to properly think and reason his way through situations. We create a dog who is empowered with control over himself and learns freedom of choice through the art of good decision-making, not just conditioning to patterns of response.

Dog Training Schedule in Medford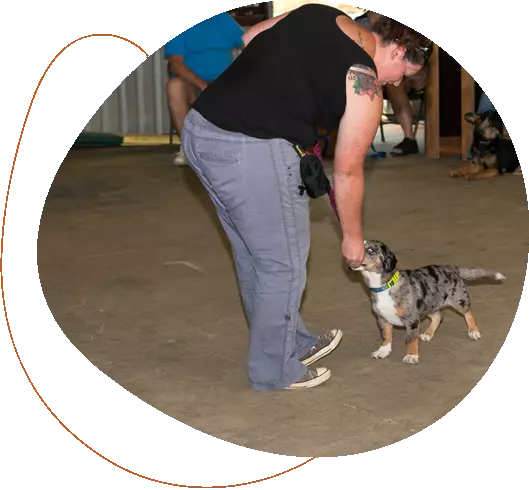 Prodogz Dog Training of Southern Oregon & All of The Rogue Valley
We Service the Entire Medford & Jackson County Area
Our training programs are based on clear communication and positive reinforcement. We believe training dogs is not about being the "Leader Of The Pack" but instead working with your dog with science-based methodology. We base training on "Engagement" instead of fear-based techniques. So if you are looking for dog obedience classes or dog obedience school near you that teaches positive reinforcement techniques, Prodogz should be your first choice.
Dependable
Responsive
Engaged
Discover More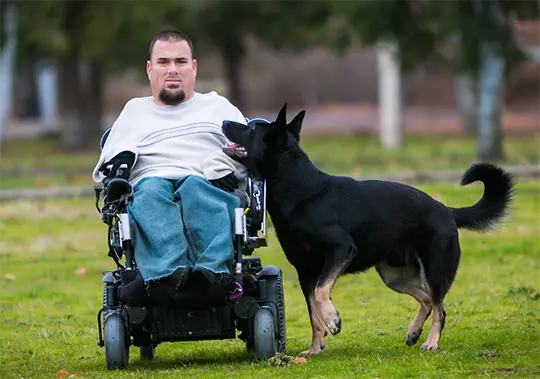 About Us
JASON LAKE THE DOG TRAINER
Dog training in Medford, OR and Southern Oregon. Dog Training Classes, Puppy Training Classes provided by Prodogz 5 star rated dog training company. Jason Lake is a dog trainer and canine behavior consultant in Medford & The Rogue Valley with 25+ years of experience working with dogs and their owners. Jason specializes in: Dog Aggression, Separation Anxiety, Rescue & Shelter Dog Training, Puppy Training, Dog Obedience Training, and Difficult Dogs that many professionals tend to shy away from. He has written countless articles on training dogs and has been featured on television and radio.

Jason believes in using positive reinforcement and clear communication when working with clients and their dogs. Although there are many ways to train your dog, Jason believes that the first step in any dog training program should be reinforcing that training is not based on force or compulsion, but engagement and play.

A Well-Trained Dog is a Happy Dog. Dog obedience and puppy training do much more than make you and your dog or puppy good at walking down the block together. Dog obedience training establishes a working connection between you and your dog. And most importantly, dog obedience training makes it fun for you to include your puppy in everyday life. At Prodogz Training in Medford, Oregon, we believe a well-trained dog is a happy dog. We truly hope that you come by to see our Dog Training in action.
Dog Aggression, Separation Anxiety, Rescue & Shelter
Dog Training,Puppy Training
Discover More
Services
We Provide Quality Services
Asked Questions
We are always Ready for your Any question
We Service the Entire Medford & Jackson County Area.
FAQ
Dog Training Near Me?
Prodogz Offers puppy training classes, dog training classes, dog obedience training, private training and service dog training in the Rogue Valley.
Puppy Training Near Me?
New puppy? We can help! We offer a wide range of training options tailored to puppies including Puppy Class, Socialization, Nutrition Ideas, Developmental Feedback, and proper puppy training classes in Medford, OR and all of the Rogue Valley
Dog Training Class Prices
Dog training should be affordable for everyone, Prodogz offers competitive dog training prices on our puppy training classes, basic obedience classes and private sessions
Affordable dog training near me
is something that dog owners are searching for on a daily basis. This is why we offer dog training prices to Rogue Valley residents. Some of our clients find us when they're looking for dog obedience boarding school at reasonable prices. Although Prodogz does not offer boarding schools we do offer competitive dog training prices.
Our Dog Training Packages
We offer Puppy Classes, Basic Obedience Classes, Private Sessions and more.
Testimonials
What Clients Say?

We got so much out of one hour zoom puppy training session with Jason! Every single moment was filled with exactly the useful pieces of information that we needed to work train our puppy. Jason was very astute to each subtle movement of myself and the puppy and made micro corrections as we went that instantly made our training more effective. We will definitely be in touch again to continue.
Elishia Tucker
06/02/2020

Jason is an absolutely fantastic person and trainer. My partner and I brought in our Hound and explained our (then current) behavioral issues to Jason. He immediately put together a SIMPLE and (very) effective plan of attack. Copper was engaged the entire time, and seemed to enjoy his training. We were very lucky to say that after only ONE session (+ continual @ home training) and a new collar, Copper is a MUCH happier pup, and we are far less stressed. Thank you SO much Jason.
Isabel Gibson
5/02/2021

Jason has the heart of a teacher and a passion for helping people understand how to communicate with their dogs in a healthy way. His expertise is second to none and we are so very lucky to have had the opportunity to work with him. It is impressive how easy he makes it to understand and how well the process works.
Danielle Clair
12/02/2019